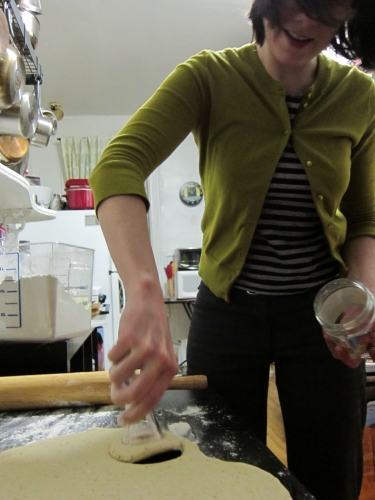 It's me! I'm the Birthday Girl!
Today is my birthday!
To celebrate, I spent last night cleaning my apartment from top to bottom.
I know what you're thinking: "Wait. How is that celebrating?"
It's celebrating because now I get to spend the whole day crafting and reading and doing whatever I feel like doing most! Maybe I'll make a new skirt, start a crochet project, or curl up on the couch with a cat a book. I don't know, but I'm totally excited!
The promise of a full day of crafting day got me thinking about handmade gifts, and all of the amazing things that my talented friends have given me over the years. This year, my sister sent me a neat handmade card, and last year Jeremy painted me a picture; I've gotten huge piles of delicious baked goods from my kitchen-tastic evil twin, and my BFF once gave me a pair of the most beautiful fingerless gloves that I've ever seen. Every single handmade thing that I've ever received has made me feel incredibly special—I can't think of a better way to show someone that they are loved!


So, what's the best handmade gift you've ever gotten/gave?