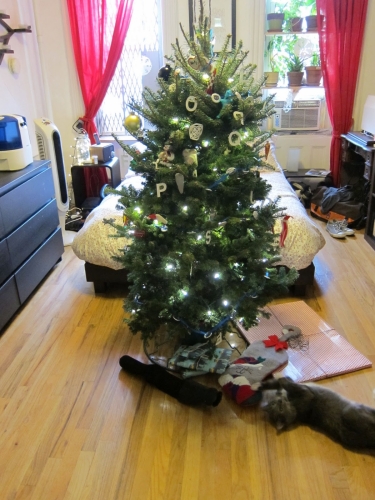 Christmas has always been a pretty big deal in my family. I'm used to a crazy day filled with relatives and friends, with at least 3 stops before we finally make it to my Aunt's house for the *real* celebration. But, this year, Jeremy and I will be flying to Mexico on Christmas Eve—my in-laws are generously taking us on a family vacation/belated honeymoon—which means I'll be substituting beaches for my usual Michigan snow, flip-flops for stockings, and bathing suits for footie pajamas.
To be honest, even though I'm 27, this is my first Christmas away from home, and I'm a little bit nervous. I'm worried that, though surrounded by paradise, I'm going to be sad and missing my family. I'm worried that I'll ruin the day for everyone else because I'll be homesick. However, more likely than not, instead of being sad, I'll be having an awesome time exploring Mexico. Even so, to make sure I had a "real" Christmas morning before we left, Jeremy, the cats, and I had Fake Christmas Morning on Sunday.
We didn't have stockings for us, so Jeremy surprised me by filling one of his tall bicycling socks with Haley-specific goodies: sharpies, post-it notes, Ritter Sport mit Marzipan, and, of course, broccoli.
We did have a stocking on hand for the cats, and we filled it with sparkly balls, kitty treats, and their favorite mousies. (You know, so they would have something to open.)
Though they had plenty of toys of their own, the cats seemed way more excited about our presents.
Luckily, there wasn't anything in the wrapping paper that the cats could ruin. I made Jeremy a charcoal felt and flannel iPad case for the trip.
Then, for good measure, I also made him a matching iphone case with a wallet pocket. (Both the iPad and iPhone cases were made using all vegan materials!)
Jeremy got me this sweet ocean poster to go with the GOLDFISH we're getting when we get back from Mexico. (So freaking excited!!) Apparently, the cats can't be trusted with that kind of responsibility while we're gone.