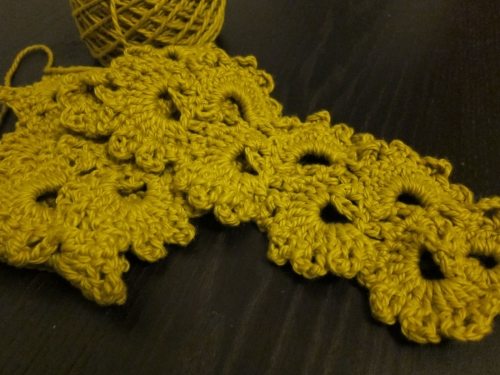 By now, my original hat project has morphed into a trio of projects: a hat, a scarf, and then mittens to come. (Hey! How'd that happen?)
This whole mess started with Ravelry. When I finished my first two projects, my pal Heather talked me into joining. As soon as I did, I couldn't help but look through a pattern or two, and the Anne Lace Scarf by MK Carroll was one of the first patterns I saw. Needless to say, I immediately fell in love. Hard. The very idea of crocheting giant lace really rubs the little old lady in me exactly the right way. So, after I flew through the pattern the first time, it occurred to me that the only thing that could make this scarf better would be to make it twice as wide. Now, I'm no pattern magician, so I'm in the process of knitting the scarf twice (one and a half down, one half to go). When I'm done, I plan to flip the second scarf over and slip stitch down the middle to attach them. According to my calculations—of which there are none—this should keep the edges of both sides looking the way they should. I'll let you guys know if this plan turns out to be brilliant or horrible.
For you non-Ravelry folks, here's a link to the MK Carrol pattern page.
Also, feel free to add me on Ravelry. I'm totally new to the site (and crochet), so be gentle as I build up my project list, okay? http://www.ravelry.com/people/thezenofmaking