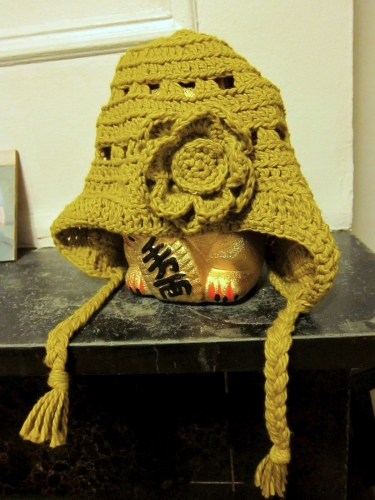 I set out to make this hat with one goal: that it would match all of my coats. For some reason, I chose ugly pea green—one of my favorite colors, right next to ugly dark yellow—and somehow it actually worked. It looks nice with my bright red coat, my brown coat, my grey fall jacket, and my navy overcoat. (Who knew ugly green was so versatile?)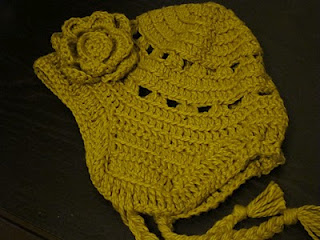 Here's a better look at the shape and the texture. I used the PDQ pattern in Stitch 'n Bitch Crochet (link to the book below) for the basic design. The directions called for working in back loops, which gave the hat a neat texture and some stretch. Because I was looking for a slightly larger winter hat, I lengthened the pattern, made the ear flaps a little bigger, and stuck a flower on top for a little sass. The original pattern also included buttons to hold the ear flaps out of the way, but I opted to add braided ties instead.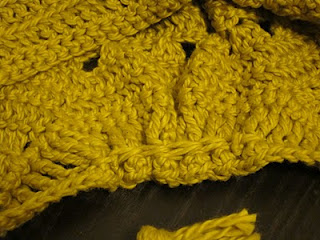 I'm a petite lady, so my head is sized frustratingly between that of a large child and a normally sized adult. I didn't think about that when I started, so the finished hat turned out a little bit big. To fix the problem, I decided to use a line of slip stitches in the back to create a few pleats. The slip stitches gave it a cute darted look, while making the hat fit correctly. This isn't an ideal solution, but it certainly worked in a pinch. Next time, I'll know to size down a few stitches.
Of course, I've already started working on a matching scarf, with coordinating mittens on deck. This is not the last you'll see of UGLY GREEN YARN!!! Ahem.
The pattern can be found here:

**If you click through a link to Amazon.com in this post, I will make a little money if you make a purchase. Don't say I didn't warn you.**