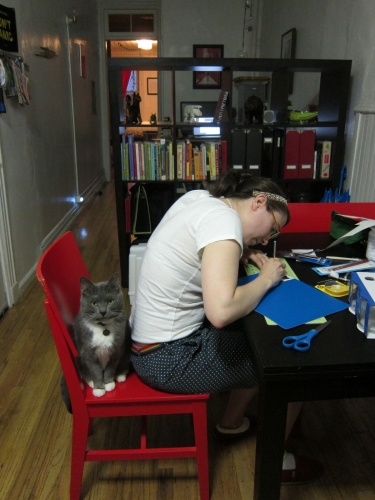 The kitchen table: My real workspace.
I live in NYC, so it should probably go without saying that I do not have a spectacularly spacious crafting area. But, if I did, here are a few things I would use to organize it.
Foster Flat File
Flat files: traditionally for blueprints, but I would use it to store sewing patterns, cutting mats, and stencils.
Antique Hardware Drawers
An old set of hardware store drawers would be perfect for buttons, trimmings, crochet hooks, X-Acto knives, machine needles…the possibilities are endless.
Sew Bright 20 Mega-Tray Storage Cutting/Craft Table
Fabric storage + cutting surface + sewing surface = love.
A pegboard could be used for so many things in the life of a crafter, and thread storage is just one of them. Embroidery floss hanging on hooks on said pegboard is another.