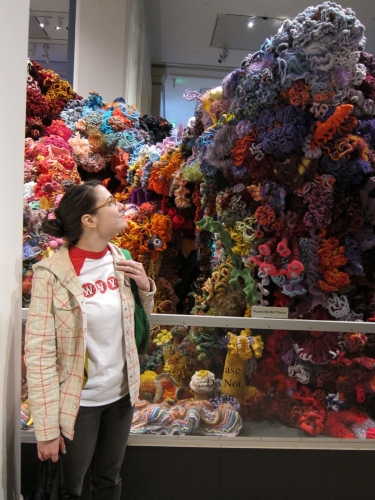 Jeremy and I were in Washington, DC this weekend for the the Rally to Restore Sanity, but we made sure to carve out enough time to hit a few museums before we headed back to NYC.
Our first stop was the Smithsonian Institute National Museum of Natural History, where, surprisingly, I immediately walked smack into the biggest, most awesome piece of crocheted work I'd ever seen. (It's like the crochet gods got the message that I was a new convert, or something.) Turns out, the exhibit was the Hyperbolic Crochet Coral Reef , which is being temporarily displayed by the Smithsonian. According to the main website for the project, it's still expanding, so you can totally send them your crocheted reef bits. Look here for more info.
To give you an idea of just how big this exhibit is, the picture above is me standing next to a small section of the crocheted reef. Click through the link below to see more of the display.