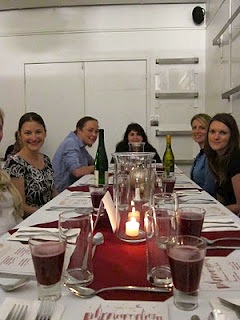 The Ladies of the Table (About half of us aren't in the frame. Sorry.)
Yesterday evening, I met up with my vegan lady-friends for a Friday Night Dinner at Natural Gourmet. This is what we ate:
The Menu
Pumpkin Sage Soup with Cashew Cream
I am obsessed with this soup. I don't usually like sage, but it was very subtle when paired with the pumpkin. Soon, I intend to spend a lot of time in my kitchen trying to figure out the recipe. Also, I'm going to serve all of my meals in tiny pumpkins from now on, okay?
Ravioli Trio with Grilled Polenta and Brussels Sprout Slaw
The main course included three kinds of ravioli: porcini, herb pesto, and nut ricotta. The nut ricotta was my favorite. The polenta was crispy and tender and delicious, and I could have eaten about 3 more pieces. I even suspended my no-slaw rule to try the Brussels sprout slaw. (The last time I ate slaw, I was a kid, and I spit it out on my very surprised dog.) My mom would have been very proud.
In the Q&A; session after the meal, we were surprised to learn that the chefs had used very thinly sliced celery root instead of pasta for the ravioli casing. As it turned out, our entire meal was both vegan and gluten free.
Poached Plum Tart and Pear Vanilla Bean Ice Cream
Dessert was decadent. Especially the pear vanilla bean ice cream. Enough said.
Sparkling Raspberry Mojito (times two) and Riesling
Natural Gourmet paired a sparkling cranberry mojito with the meal, and we brought the wine. I paired them both.
If you're in NYC, you should definitely reserve a spot at a Friday Night Dinner. The food was excellent, the atmosphere was very relaxed, and we had a great time trying all of the dishes. There was also plenty of time between the courses for us to hang out, chat, and catch up. The best part is, because the people preparing the meal are advanced culinary students, you get to meet them and ask questions after you eat. The end result is you leaving the dinner feeling stuffed and good, and them leaving the dinner knowing that they fed several rooms filled with happy people.