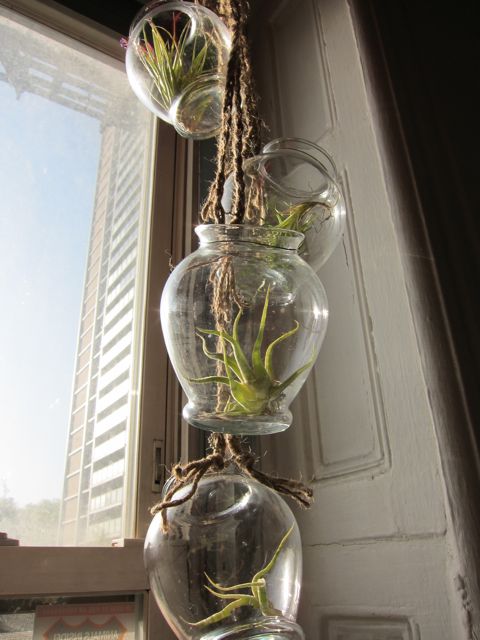 In celebration of my 100th blog post (and the return to real life after the long holiday weekend), I'm giving away a handmade air plant chandelier to one lucky reader!
If you post the winning comment, you will receive a two-tier air plant chandelier—made specially for you—including two air plants and instructions for care (and probably a silly air plant drawing, because I have a green marker and air plants are fun to draw).
You can enter up to 5 times, but make sure you leave a comment below for EACH entry, or it won't be counted!
1. Leave a comment below.
2. Like Red-Handled Scissors on Facebook (and comment below!)
3. Follow this blog using Google Friend Connect or add it to your RSS feed (and comment below!)
4. Follow Red-Handled Scissors on Twitter and tweet about the contest (and comment below!)
5. Blog about the giveaway, and post a link below.
Entries will be accepted until 11:59pm on Monday, 7/12. The winner will be picked and posted at noon on Tuesday, 7/13. The winning comment will be chosen using a random number generator. If your post wins, I will send you your very own two-tier air plant chandelier. This giveaway can only be shipped in the US, and not to a PO Box. (Sorry!)
If you don't win this time, you can always make your own using my handy tutorial!