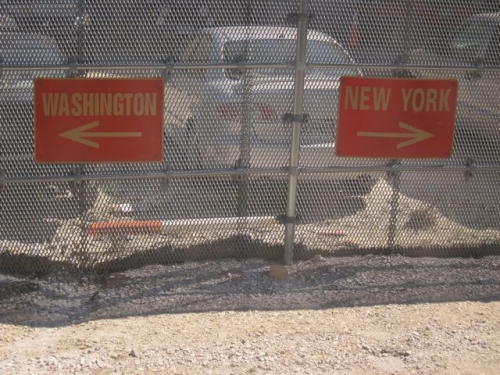 Last weekend, I was in Washington, DC on a business trip. I spent the days working hard, but still managed to find a little time in the evenings to sample some of the delicious vegan food that DC had to offer.
If you're vegan and visiting DC, you're pretty much required to stop by Sticky Fingers Bakery. It's a little out of the way, but it's always more than worth the trek.
Sticky Fingers Bakery
1370 Park Road Northwest
Washington, DC 20010
(202) 299-9700
The day I visited the bakery, it was 100 degrees and close to 100% humidity. There was nothing in the world I wanted more than vegan soft serve.
I also got some cupcakes for the road. (For the record, not all of them are mine. I'm not quite that gluttonous.)

When you go to Pizzeria Paradiso—and, trust me, you should—plan on waiting at least half an hour for your table. (Hey, it's better than the full hour you had to wait before they moved and expanded!)
Pizzeria Paradiso
2003 P Street NW
Washington, DC
(202) 223-1245
I had a vegan Paradiso pizza with roasted garlic and spinach. Next time, I'll definitely steer clear of the whole wheat crust and go straight for the full, unhealthy glory of white flour.
There was only one vegan item on the menu at TenPenh. Luckily, the vegetarian pho, though a little light on the tofu, was quite tasty.
TenPenh (now closed)
1001 Pennsylvania Avenue Northwest
Washington, DC 20004-2530
(202) 393-4500
Unsurprisingly, my favorite part of eating at TenPenh was the monkey charms hanging on the drinks. On second thought, the drinks were pretty good too.
I only had time to hit a few places on this trip. Next time, I think I'll go on a DC tour of vegan pizzas and burritos.