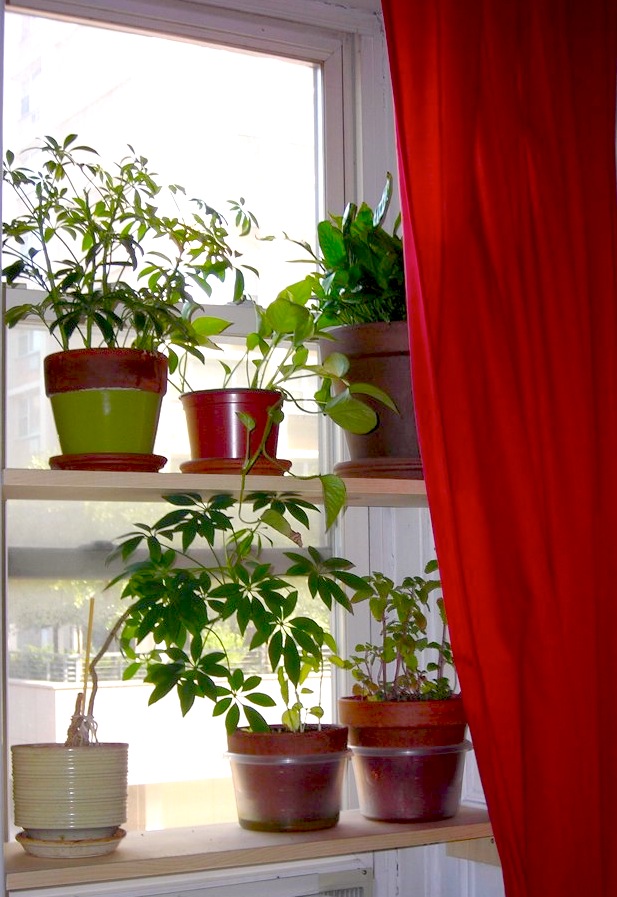 The chilly weather of fall has finally descended upon Brooklyn, bringing my fire escape garden to the end of its season. Throughout the summer months, I grew basil, parsley, and assorted flowers (that never bloomed), and watched as a giant pot of mixed herbs slowly became a giant pot of catnip. To protect it from our aspiring jungle cats, an overgrown peace lily was also moved outside to join the garden. Thanks to better-than-usual watering and snipping habits, our plants on the fire escape really thrived this year.
When the temperature started dropping, we had to decide whether to bring our happy plants inside for the winter, or to cut them back and surrender them to the elements. Our apartment is long and narrow, with windows on opposite ends, so finding a good place for plants can be a little tricky. During the summer months, the west-facing kitchen windows let in enough light to sustain shade-loving plants, but are all but useless when the days get shorter. The middle rooms don't have windows at all, which leaves our east-facing bedroom windows as the only real option for winter plants. The problem is, we also have cats–cats who are fiercely protective of their window seats, and out of whose reach the less feline-friendly plants need be kept.
Despite our lack of space, I really didn't want to part with so many healthy plants. After some thought, building high window shelves seemed to be the best option, so Jeremy and I got to work. Our goal was to design a shelving system that would allow for maximum plant space and minimum cat access. We wanted it to be simple and strong, while not blocking too much of the already scarce winter light.
We decided to turn an east-facing window, already rendered inoperable by our air conditioner, into the plant window. After I selected the positions, Jeremy cut 2 large shelves from 1″ pine that fit tightly between the sides of the window, and screwed rectangular wooden brackets directly into the window frame to hold each shelf. The wooden brackets created the strength we required, but without the need for bulkier (uglier) metal shelf brackets. We utilized the full height of our large windows, placing the shelves far enough apart to avoid shadows, yet high enough to discourage curious kitty paws.
With Jeremy's simple design, we ended up with more than enough room for our plants, and added a nice window of green to help us get through the dark winter months. Now that I see it in action, I really wish we'd done this a couple of years ago!